Library to commemorate Seale Hayne college's WW1 past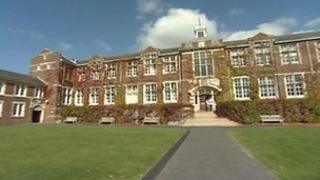 A former agricultural college in Devon which also served as a war hospital is to create a reference library about its military past.
Seale Hayne served as a military neurological hospital in 1918, treating World War One troops with shellshock.
The Seale-Haynians Club for alumni said it was to trying to trace descendants of WW1 patients and staff to ask for pictures and other contributions.
The Dame Hannah Rogers Trust, a charity for disabled people, now owns it.
Work to build the college began in 1914, but its opening was delayed due to the onset of WW1.
It became a military hospital and was used for 15 months from April 1918 to treat about 300 troops, including Army privates and non-commissioned officers.
It then opened as an agricultural college in late-1919.
In a statement the Seale-Haynians said: "If anyone has forebears who were in any way connected with Seale-Hayne Military Hospital and has any records, we would be very pleased to hear from them."
A memorial event of the 385-acre site's work during WW1 was also to be held later in the year, it added.
Plymouth Polytechnic, now the city's university, took over the college in 1989 but closed it in 2005.
The Dame Hannah Rogers Trust, which provides education and support for young people with physical and learning disabilities, bought it in 2009.