Braunton armed garage robbers sentenced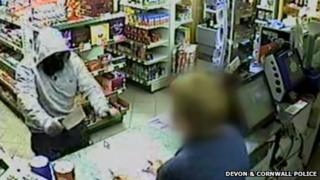 Two men who robbed a garage in North Devon armed with a meat cleaver and kitchen knife have been jailed by a judge at Exeter Crown Court.
Jamie Latta will serve seven years and Lee Prowse has been sentenced to six years.
Their raid on Knowle Garage in Braunton in November 2012 was captured on CCTV.
Judge Graham Cottle commended the courage of the cashier Trude Mian, who defied the men.
Mrs Mian, 65, was caught on CCTV footage as she grabbed a knife from the raiders and used it to chase them out of the garage and store which she ran with her husband.
She was awarded £500 out of public funds by the judge to mark her bravery.
'Aggravated by weapons'
Mrs Mian tried to dial 999 on a landline phone as the pair rushed towards her, and she was nearly hit by the cleaver as Latta used it to smash the handset.
She then alerted police using a panic alarm.
When Prouse put down his knife so he could reach both hands into the till, she picked it up and used it to fight back as the two men fled with just £60.
Prouse's girlfriend Jordane Morris, who was acting as a getaway driver, was sentenced to four years.
All three were homeless at the time but Prouse and Morris later lived in Stanhope Square, Holsworthy.
Judge Cottle said: "This robbery was aggravated by weapons being produced and used to threaten. It was a group offence.
"[Mrs Mian] was alone in the shop that night when these two men burst in and I have no doubt her behaviour was extremely courageous."