Judge calls for 'legal high' ban after ambulance attack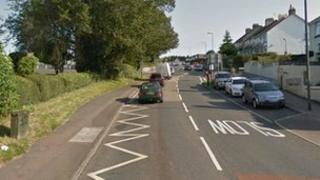 A judge has said a so-called "legal high" should be banned after he jailed a man who attacked a paramedic while under its influence.
Martin Weston, 38, was on holiday in Torbay, Devon, when he took the substance Pandora's Box and became ill.
An ambulance was called and while in the vehicle Weston, from Henry Street, Bargoed, Wales, punched a paramedic twice, Exeter Crown Court heard.
Judge Francis Gilbert, QC jailed Weston for 12 months.
Weston admitted causing actual bodily harm to Vernon Watkin and common assault on ambulance driver Gemma Southcott.
'Worst assault'
Gordon Richings, prosecuting, said the ambulance was called to Barton Hill Road, Torquay, on 3 October and found Weston in a car where he was vomiting uncontrollably.
He said: "During the journey [to hospital] he got off the stretcher and told Mr Watkin he was going to 'rip his head off'. He became extremely aggressive and forced his arm to his throat before punching him twice on the jaw."
Mr Richings said Weston refused to allow Mr Watkin to get out of the ambulance and he only escaped with the help of the driver who stopped and opened the rear door.
Weston kicked the driver and had to be restrained by both crew from running into traffic.
When the police arrived Weston told them he had no recollection of the episode.
Mr Richings returned to work the next day despite suffering a double dislocation of the jaw.
In court he made an impact statement saying it was the worst assault he had experienced in 31 years in the job.
Judge Francis Gilbert, QC, said: "I am told Pandora's Box causes agitation, paranoia, increased heart rate, altered consciousness and vomiting.
"I can only hope the government will make it illegal sooner rather than later and the shop [which sold him the substance] will have the sense to stop profiting from selling a substance that has such serious effects."
Miss Ceylan Bayram, defending, said "He is incredibly apologetic and describes Mr Watkin as a hero and asks me to thank him for stopping him from running into the road."
In a statement, Crime Prevention Minister Norman Baker, said: "I am determined to clamp down on the reckless trade in so-called 'legal highs', which has tragically claimed the lives of far too many young people in our country.
"Hundreds of 'legal highs' have already been banned."
Mr Baker said the government had launched a review to consider how current legislation can "be better tailored to enable the police and law enforcement officers to combat this dangerous trade and ensure law breakers are brought to justice."