World War One Victory medal found after 40 years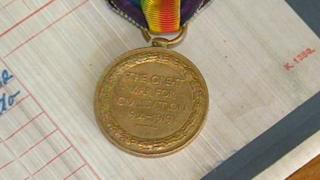 A World War One medal that was mislaid during a house clearance more than 40 years ago has been returned to its rightful owner.
The medal, awarded to Terry Snow's father, was eventually spotted on an auction website.
Mr Snow, from Cullompton, Devon, said the seller told him he bought the item, along with several other medals, at Lincoln antiques fair.
The Victory medal had been awarded to Gilbert Snow.
Mr Snow said he had been searching for it since the early 1970s and was "overjoyed" to get it back on his 75th birthday.
His father served in the Middlesex Regiment as a Lewis Gunner and fought in the Battle of Amiens in 1918, the start of the allied offensive.
Following his father's death, Mr Snow accidentally sold the medal, along with hundreds of other items, when moving house.
He has searched antique fairs and internet sites for the medal - before discovering it for sale on eBay earlier this month.
Mr Snow purchased it for £20 and now hopes to find his late father's other medal, his British War Medal.