Health boss Dr Paula Vasco-Knight accused of nepotism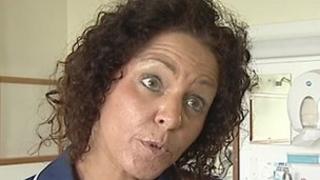 A top health boss behaved with "nepotism and favouritism" when she gave her daughter's boyfriend a job, an employment tribunal has been told.
Dr Paula Vasco-Knight, chief executive of South Devon NHS Trust, became a CBE in the New Year Honours list.
Recruitment manager Clare Sadari said she felt pressured "not to rock the boat" when the relationship emerged.
Dr Vasco-Knight claims her daughter was not going out with Nick Schenk at the time he was interviewed and appointed.
Miss Sadari and her boss, Penny Gates, claim they were "hung out to dry" after raising their concerns about the appointment of Mr Schenk.
'Body language'
The tribunal is against South Devon Healthcare NHS Foundation Trust and Torbay and Southern Devon Health and Care NHS Trust.
The hearing in Exeter was told Mr Schenk was one of four candidates shortlisted for equality and diversity manager by Dr Vasco-Knight and her director of workforce Adrienne Murphy.
Miss Sadari said she was "uneasy" when Ms Murphy claimed the chief executive had someone in mind for the post, but did not say who.
She said Dr Vasco-Knight and Ms Murphy had rewritten the job specification and upgraded the position and Dr Vasco-Knight chaired the interviews.
"As soon as Nick Schenk walked into the room, I knew that he was Paula's preferred candidate," Miss Sadari said.
"Her body language immediately became more animated and she was noticeably more friendly and encouraging."
Graduation
Miss Sadari said Mr Schenk gave such a good interview, it was "as if he had advance knowledge of the questions", although she added his performance was the best of the four candidates "and on that basis the job was offered to him".
After Mr Schenk began work in July 2012, Miss Sadari said there was talk of a "connection" to Dr Vasco-Knight, but it was initially unclear what the link was.
She said Mr Schenk told her he met his girlfriend through an internet dating site and had been seeing her since December 2011.
Mr Schenk took leave in late July to go to his girlfriend's graduation ceremony in Leeds.
Days later, the chief executive told a managers' meeting she had been away from work to attend her daughter's graduation in Leeds.
"The penny dropped for a number of us present at the meeting," Miss Sadari said.
Miss Sadari said it was "all very wrong" because of Dr Vasco-Knight's position, her obligations to the trust and as England's NHS equality lead.
"I believed the appointment had involved nepotism and favouritism and was contrary to equality policy and procedures," she said.
When Miss Sadari and Ms Gates went to Ms Murphy with their concerns, she indicated that she already knew about the relationship.
"She shrugged her shoulders and gave a wry smile," Miss Sadari said.
The tribunal was told Miss Sadari believed the chief executive's failure to declare an interest was "unlawful and unethical" and "what she had done flew in the face of equality law and proper practice".
Lawyers for the trusts said the chief executive's case is that "she had not met Mr Schenk and her daughter was not going out with him at that time of the interview".
Ms Gates and Miss Sadari claimed they were not allowed to return to their posts and were told they would be redeployed.
"I was not happy that we were being required to move when we had done absolutely nothing wrong," she said.
The women said they had been "hung out to dry" and both quit their jobs in March 2012.
The case continues.