Paignton Zoo monkeys banned from eating bananas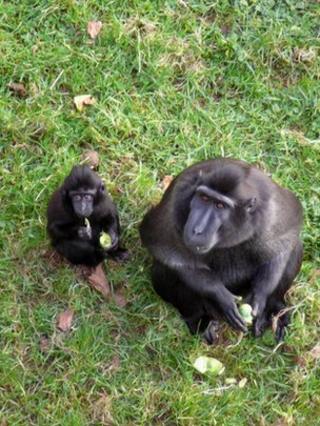 Monkeys at a zoo have been banned from eating bananas because keepers say they are too sugary.
Paignton Zoo in Devon says giving monkeys bananas cultivated for humans is like giving them cake and chocolate.
Amy Plowman, head of conservation, said that is because they are too ripe for monkeys and can cause gastrointestinal problems.
Dr Plowman said it had not been too hard to wean the monkeys off bananas and give them vegetables instead.
She said: "Fruit cultivated for humans is much higher in sugar and much lower in protein and fibre than most wild fruit.
"It can also cause gastrointestinal problems as their stomachs are mostly adapted to eating fibrous foods with very low digestibility."
Bananas 'a treat'
She said monkeys had their banana intake reduced slowly.
A typical monkey diet now features lots of green leafy vegetables, smaller amounts of other vegetables and as much browse - leafy branches - as possible.
Animals do still get bananas if they are unwell and the keepers need to make sure they take medication.
Dr Plowman said: "Putting it in a piece of banana works really well, as it's such a treat now."
Senior head keeper of mammals Matthew Webb said: "Reducing the sugar in their diets has calmed them down and made their group more settled."