Hundreds join Feniton protest against homes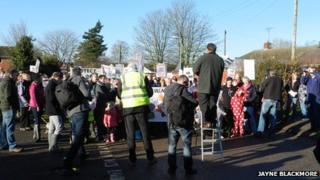 About 400 people have attended a demonstration against plans to build 235 new homes in a Devon village.
Three firms want to build the new houses in Feniton which would increase the size of the community by about 50%.
A public inquiry into the housing proposals is under way. East Devon District Council has already rejected the plans.
Villagers have formed a group called Fight For Feniton, which will also give evidence to the inquiry.
The village was hit by flooding in 2008, again in 2010 and twice in a 48-hour period in November.
Among those attending the demonstration on Saturday morning was the area's Conservative MP Neil Parish, who has also given evidence at the inquiry in support of the residents.
'Over-strain the infrastructure'
Dr John Witherington, the chairman of Fight For Feniton, which organised the demonstration, said: "What we're facing is an explosive growth in a small community.
"We're in the middle of a public inquiry. We've already taken recent development of 50 houses already being built.
"Any more houses are going to over-strain the infrastructure."
Strategic Land Partnerships (SLP) has submitted an application for 120 homes and another - alternative - one for 59.
Simon Steele-Perkins from SLP said: "Our proposals are not just about new homes but about urgently needed infrastructure: which will deliver small-scale employment opportunities and flood relief to two of the most vulnerable properties and will help bring forward the village-wide flood defence scheme and improve the sewerage system."
Last October, the Planning Inspectorate overruled the council's decision to reject an application from Wainhomes for 50 new homes, saying Feniton was a sustainable village and there was a need for housing.
Simon Cater, from Wainhomes, said: "We firmly believe these proposals will deliver a range of benefits, creating much-needed new affordable housing, as well as supporting vitally important new flood prevention measures."
Another rejected application for 32 homes at Ackland Park by developer David Cutler is to be resubmitted. The BBC has been unable to contact him so far.
The public inquiry, which started on Tuesday, continues.