St Luke's Hospice announces day centre closure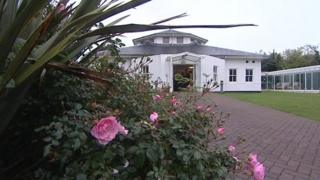 A day centre for terminally-ill patients in Devon is to close at the end of March, it has been announced.
St Luke's Hospice moved its day centre from its main hospice at Turnchapel to the former Pearn convalescent home in Plymouh six years ago.
The unit, which is open five days a week, supports more than 70 patients.
St Luke's said continuing its day care provision was not sustainable and it would now redirect its focus to end-of-life care.
"We are aware this decision will cause upset. However, we need to reach a wider group of patients to ensure that our local population can and will die well," St Luke's said in a statement.
The charity said with an ageing population there was a growing need for specialist end-of-life care and it wanted to provide that for as many local people as possible.
"End-of-life care is something we do very, very well and that is what we will be focussing on," spokesman Robert Maltby told BBC News.
He said St Luke's would be working with day care patients to help them find alternative places and consultations were under way with six staff members about possible redeployment within the hospice service.