Ivybridge ancient woodland group looks to buy site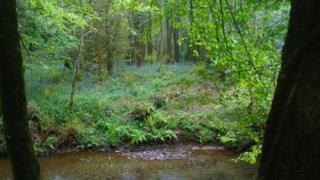 Nature lovers have vowed to buy a 52-acre site of ancient woodland after it was spared development last year.
The site near Ivybridge in Devon was earmarked for a road to a quarry where a waste incinerator was going to be built.
But waste company Viridor pulled out after another incinerator was given the go-ahead in nearby Plymouth.
The New England Woodland Trust is hoping to raise £185,00 to buy the wood.
'Worth preserving'
The woodland's owner Aggregate Industries has already agreed to an eight-month lease of the land to the newly created trust.
Ancient woodland, classified as dating back to at least the 1600s, represents about 2% of Devon's woodland, according to the trust.
The adjoining quarry has already been bought by an unnamed person who has declared that it will be protected as a wildlife haven.
Dr Chris Westwood of the trust, said of the woodland: "It's well worth preserving.
"On the higher ground there are some amazingly big holly trees which must be several hundred years old."