Ex-Tiverton mayor Kevin Wilson admits benefits swindle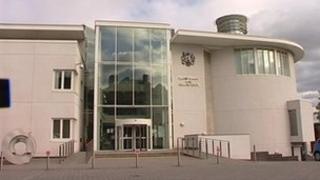 A former mayor has admitted swindling thousands of pounds of benefits from his own council in Devon.
Liberal Democrat councillor Kevin Wilson, 55, pleaded guilty to two charges of making false representations to obtain benefit.
The former Tiverton mayor claimed almost £4,000 which he was not entitled to, Exeter Crown Court heard.
Wilson, of the town's Besley Close, changed his plea halfway through his trial after new evidence emerged.
During the three-day trial, the prosecution alleged Wilson, a councillor at Mid Devon District Council, fiddled £3,866.81 in housing and council tax benefits so he could afford to rent a two-bedroom home in Tiverton.
He admitted failing to disclose £1,943 pension income and about £200 which he was paid by the Central Devon Liberal Democrats for writing press releases and leaflets.
'Every day a struggle'
Wilson, who worked for Devon County Council as an administrator until being made redundant in 2011, told the jury he had not declared his pension earnings because they were being used solely for his daughter's education.
He told the court that after he split up from his wife he ran into serious financial problems.
Wilson said: "I felt the payment I was using for my daughter's education did not have to be filled in on the form because of what I had researched on the internet.
"I did not have a handle on my financial situation. I was living from hand to mouth. Every day was a struggle. I was surviving with help from my family.
"I made an arrangement with the school I would continue paying for my daughter's education after she left, which is what I am doing now and will continue to do until the outstanding bill is paid."
When first challenged about the money in his bank account by Mid Devon District Council, he told them it came from selling a car on internet auction site eBay.
He later changed his story after checks showed this was not the case but told the jury on Tuesday that he must have sold the car for cash and been confused when he spoke to officials.
Inquiries made during the trial by police suggested he had never sold the car.
Wilson has been released on unconditional bail and his case has been adjourned for a pre-sentence report.