Missing Harry Martin: Hundreds attend church service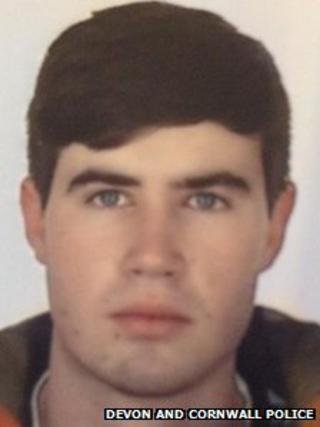 Hundreds of people have attended a church service for a missing teenager who has not been seen since going out to take photographs of stormy seas.
Harry Martin, 18, left his home in Newton Ferrers, in Devon, on Thursday.
More than 120 volunteers joined professional search and rescue teams over the weekend to try and find him, but no trace has been found.
About 400 people attended the service in Noss Mayo. Police said they would not give up the search.
'Lovely and smiling'
Speaking after the service at St Martin's Church, one of Harry's friends, 16-year-old Imogen, said: "I don't think I've ever cried so much.
"I just gave the family my best regards.
"The service was a lovely time to bring everyone together and for us to say prayers for Harry.
"He was so lovely and always smiling."
BBC Radio Devon's Caroline Adams, who attended the service, said: "Lot and lots of candles were lit and many young people attended, including Harry's older brother.
"During the service, people could leave messages which will be collected and put in a book which will be presented to the family."
Insp David Cuff, from Devon and Cornwall Police, said: "We're not going to give-up, we will carry on searching until I'm happy we've searched all areas thoroughly and no stone is left unturned."
Police, the Dartmoor Rescue Group, coastguards and members of the public have taken part so far.
Mr Martin, a photography student, was last seen by his father leaving his home and walking towards a coastal path on Thursday lunchtime.