Feniton homes plans inquiry starts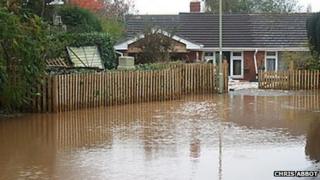 A public inquiry into whether a Devon village should increase in size by 50% is due to start.
Three developers want to build a total of nearly 300 new homes in Feniton, which has flooded several times in recent years.
East Devon District Council has already rejected the plans.
Now a senior planning inspector will decide whether any of the new homes should get the go ahead.
Some villagers fear that having extra homes in the area will increase the flood risk in Feniton.
The village was hit by serious flooding in 2008, again in 2010 and twice in a 48-hour period in November
Strategic Land Partnerships (SLP) has submitted an application for 120 homes and another - alternative - one for 59.
Last October, the Planning Inspectorate overruled the council's decision to reject an application from Wainhomes for 50 new homes, saying Feniton was a sustainable village and there was a need for housing.
'David and Goliath battle'
Councillor Claire Wright said residents now live in constant fear of flooding, but SLP said its plan included money and land to alleviate the problem.
It said in a statement: "Land for new homes and affordable homes needs to be brought forward in a range of locations where people want to live.
"Feniton has expanded in the past and could do again provided the necessary infrastructure is delivered alongside new homes."
Villagers have formed a group called Fight For Feniton which will be giving evidence to the inquiry.
Susie Bond, the local independent district councillor, described it as a "David and Goliath battle".
Another rejected application for 32 homes at Ackland Park by developer David Cutler is to be resubmitted. The BBC has been unable to him so far.