Drug use and cell sharing 'still issues at Dartmoor Prison'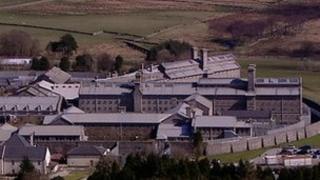 Drug use and overcrowded cells remain unresolved issues at Dartmoor Prison, inspectors have said.
In its annual report, the prison's Independent Monitoring Board (IMB) said it was "disappointed" some issues raised in previous reports had not been fully addressed.
But it also acknowledged that the Category C jail was considered safe with low rates of violence.
Despite a closure threat, it was also "business as usual" for staff, it said.
Concerns included:
Some single cells still being used for two prisoners, which it raised previously
Little privacy screening around cells' toilets
Work still being required on the fabric of the buildings, which it raised previously
No specific programmes for sex offenders
Continuing problems with arrangements for family visits
Too many prisoners left on the wings during the working day
However, the board said there had been very few accidents or acts of violence recorded, and it was considered safe and well run.
It was also pleased substantial improvements had been made in prisoners attending work and education programmes.
The prison's future is uncertain after the Ministry of Justice said last September it was in talks with Dartmoor's landlord, the Duchy of Cornwall, about the jail.
The ministry said then a final closure decision was "a long way off" because its lease had a 10-year notice period.
A Prison Service spokesperson said: "As the IMB report acknowledges, Dartmoor is a safe and well-run prison that has progressed well in the past year.
"This report will now be considered fully by ministers, who will respond in due course."
The prison, currently able to hold 661 inmates, was originally built in 1809 to hold French and American prisoners of war.