MP Sarah Wollaston in e-cigs row with health team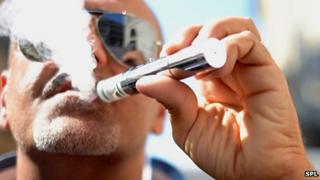 A Devon MP has rejected public health officials' advice that electronic cigarettes should not be used by people who want to give up smoking.
E-cigarettes are battery-operated devices producing vapour that contains nicotine.
Torbay's public health team has advised people to use patches and gum instead.
But former GP Sarah Wollaston, the Conservative MP for Totnes, said she thought e-cigarettes were an important tool for people trying to quit smoking.
E-cigarettes do not contain the toxic substances found in tobacco and are used by an estimated 700,000 users in the UK, according to Action on Smoking and Health.
'Not clear'
Some people combine "vaping", as it is often called, with traditional cigarettes while others substitute it for smoking completely.
They are to be licensed as medicines from 2016 by the Medicines and Healthcare Products Regulatory Agency (MHRA), which means they will then face stringent checks.
Until this happens, "it is hard to know how safe and effective they are" said Torbay's public health team in a press release.
Interim director of public health, Dr Caroline Dimond, said: "It's not yet clear from the research how beneficial e-cigarettes are and there is a lot of variability in each device.
"Personally I would suggest people use alternative methods because we know exactly what the benefits are."
But Dr Wollaston said: "I think they are a very important addition to the armoury; we have patches and nicotine tablets but they don't suit everybody.
"If there is a product out there that for some people is going to be better for them, I don't think we should turn our backs on that.
"My advice would be not to cut off a route that some people are finding effective."
A spokesman from the Electronic Cigarette Trade Industry Association says the products can achieve a public health gain.
No-one was immediately available for comment from Torbay's public health department.