Devon Air Ambulance searches for community night-time helipads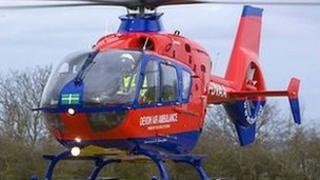 Devon Air Ambulance managers want to have a network of community helicopter pads across the county which can be used for night-time flying.
Staff at the charity, which operates the ambulances said known, pre-prepared sites were needed for such operations.
They added that any open green space could be used if proper lighting was installed.
The work is part of ambitions to have one of Devon's two aircraft flying after dark within the next five years.
'Any space'
Devon has two EC135 helicopters, in Burrington and Exeter. The Burrington one has night flight equipment.
However, even with the right equipment and crew training, Civil Aviation Authority (CAA) restrictions affect where the aircraft can take off and land from during the hours of darkness.
Sunset in north Devon can be at about 16:15 GMT at the end of December. Thirty minutes after that the CAA deems it to be night-time.
The charity's operations director, Nigel Hare, said the aircraft could only land "somewhere we know to be safe and we can see".
He said: "We're looking to work with towns, hamlets and villages across the county.
"If they any have a space we can use - it could be a local village green, a football club, a golf course - we want residents to work with us.
"We don't need to tarmac it or anything. We just need to arrange for a single pole with floodlights on top to be installed."
The Devon Air Ambulance Trust currently has to raise up to £4.5m each year to run its aircraft.
Since 1992, it has flown more than 20,000 missions.