Ivybridge sewer network to get £3m boost after flooding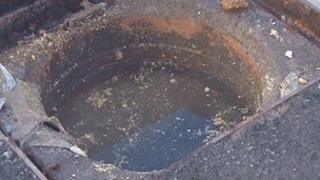 About £3m will be spent on improving the sewer network in the Ivybridge area, South West Water (SWW) has said.
It comes after the underpass at the A38 near Ivybridge Recycling Centre was flooded with sewage on 22 December.
The company said its staff had been working "around the clock" over the festive period responding to sewer flooding.
Plans to improve the network include increasing the storm water storage capacity at the sewage treatment works.
'Very unpleasant'
A SWW spokeswoman said that "heavy and prolonged" rain had led to surface water "overwhelming" some parts of the combined sewerage network.
"The sewerage network at the A38 underpass in Ivybridge is particularly prone to hydraulic overload during bad weather," she said.
"We do appreciate that this is very unpleasant for our customers and apologise to those affected.
"As part of a £7m scheme to improve bathing water quality at Mothecombe, we are planning to invest around £3m in our network in Ivybridge.
"Proposals include creating an additional 1,315 cubic metres of storm water storage capacity at the sewage treatment works and enlarging the pipe that runs under the A38."
SWW said it would be meeting with Ivybridge Town Council early in the new year to discuss the proposals.
A start date for the works has not yet been agreed but the company said it was likely to be between June 2014 and April 2015.