Greenpeace detainee Kieron Bryan proposed hour after reunion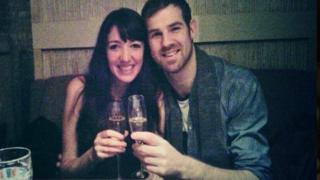 Freed video journalist Kieron Bryan, held with the crew of a Greenpeace ship in Russia, proposed to his girlfriend an hour after they were reunited.
Mr Bryan told BBC News how Nancy Thornburn, 27, had visited him after he was freed from prison in St Petersburg.
The 29-year-old, who arrived back in the UK last Friday, said: "I knew exactly what was important to me."
He was among five Britons held in Russia since their arrest during an Arctic protest in September.
The five, arrested in a protest against Russian oil drilling in the Arctic, were among 30 people held on hooliganism charges which were dropped under a new Russian amnesty law.
Mr Bryan had been freed on bail in November with other members of the Arctic Sunrise crew in St Petersburg.
'Darkest moment'
"My fiancée came to visit me a few days after I got bail," he said.
"I wasn't sure if I was going to propose at that point. I'd thought about it a lot while I was in prison.
"It puts things into perspective when you're in those conditions.
"When she arrived I wasn't sure if I'd do it because there was a lot to talk about, but within five or 10 minutes we were so happy to be together that it just felt like the perfect time - so I proposed within an hour of her arriving in St Petersburg.
"And she said yes, thankfully."
Mr Bryan, whose parents live in Shebbear, Devon, said his "darkest moment" had been while being held in a Murmansk jail.
"We had just been told we were going to be held for two months.
"The isolation, 23 hours a day in the cell with one other person who doesn't speak your language, is incredibly difficult to cope with.
"I also knew that my family at home were totally oblivious to how I was being treated."
He added: "It is going to take some time to adjust. I have got to piece my life back together.
"At the moment I'm trying to say thank you to everyone who did so much for all of us while we were in prison."