New Year Honours for Plymouth foster parents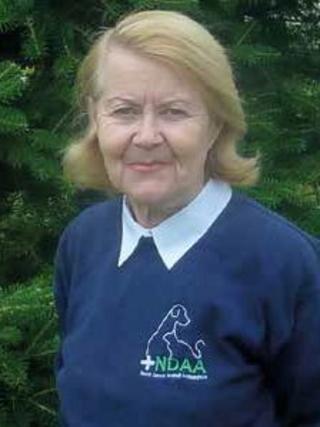 A Devon couple who have fostered more than 200 children are among those recognised in the New Year Honours.
John and Betty Insley from Plymouth said they were "amazed and delighted" to be appointed MBEs.
Aged 73 and 67 respectively, the couple said they intend to continue fostering for as long as possible.
Other people honoured include North Devon Animal Ambulance founder Diana Lewis, from South Molton, who is to receive the British Empire Medal.
The charity was set up in 2002 and is staffed by unpaid volunteers, with Mrs Lewis serving as the ambulance driver and animal collections officer.
"When the letter from the Cabinet Office arrived on my doorstep in late November, I nearly had a fit," Mrs Lewis said.
"I'm stunned and thrilled that somebody, somewhere, thinks a small charity in Devon deserves this honour."
The Insleys, who have been fostering children of all ages for 34 years, said being part of the children's lives was a "real privilege".
Mrs Insley said she thinks they have looked after nearly 250 children.
"We tried to count them up last year and got to 233 - although sometimes it's possible to forget the odd one if we've just had them for a day or two," she told BBC News.
"It's not always plain sailing, but when a child goes back home or gets a new family and it works out, it's wonderful.
"It can be very difficult when they move on, but you've got to be happy - even if you're in bits inside."
One of the couple's charges - a 17-year-old boy with special needs - has lived with them since he was two and the Insleys hope to continue fostering.
"I don't know what we'd do with ourselves otherwise, so as long as we're fit we'll continue," Mrs Insley said.
"I haven't the foggiest who nominated us for the MBEs, but we're amazed and delighted.
"It's an absolute privilege to be part of these children's lives."
Other people in the county to have been recognised in the New Year Honours list include:
OBE (Officer of the British Empire)
Dr Anne Roberts, from Exeter, for services to occupational therapy as associate professor and senior lecturer at the University of Plymouth
Gerald Arthur Sturtridge, from Exeter, for voluntary services to the community in Devon
MBE (Member of the British Empire)
Environmental campaigner Rosemary Day from Bideford, for voluntary service to the environment and to the community in North Devon
Plymouth and Devon Schools' Sailing Association President John Duffield, from Plymouth, for services to sailing
Former Friends of Devon's Archives chairman Dr Claude Gray, from Exeter, for services to heritage in Devon
Tracy Green, from Yelverton, for services to children and families as family intervention manager for Plymouth City Council
Catherine Lester-Walker, from Bideford, for services to former military personnel as part of her work with the National Armed Forces charity SSAFA
Foster carers John and Mary Richardson, from Exmouth, for services to children and families
DBE (Dame Commander of the British Empire)
Dr Paula Marie Vasco-Knight, from Okehampton, for services to the NHS as chief executive of South Devon Healthcare NHS Foundation Trust
British Empire Medal
Mary Ford, from Barnstaple, for services to the elderly and homeless
Kathleen Moyle, from East Budleigh, for services to the restoration of Salem Chapel
Barbara Dearden-Potter, from Seaton, for services to the community
Brian Fyfield-Shayler, from Tavistock, for services to the community
Marjorie Smith, from Exeter, for services to the community in Drewsteignton
Martin Weiler, Environment Agency area manager for Devon and Cornwall, for services to the community in the South West
Queen's Fire Service Medal
Lee Howell, Chief Fire Officer, Devon and Somerset Fire and Rescue Service