Greenpeace Russia arrests: Kieron Bryan's family 'emotional' over release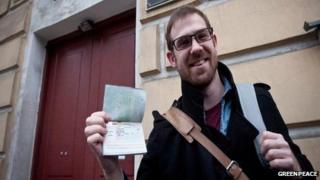 The family of a video journalist held in Russia with Greenpeace activists have said dealing with his confinement was "something we wouldn't wish on anyone to experience".
Kieron Bryan, 29, was among 30 people arrested on the boat Arctic Sunrise at an offshore drilling rig in September.
Russia has dropped charges against all the crew, said Greenpeace.
His father Andy Bryan, from Devon, said he was expected home on Friday, ending what was "a very long three months".
Greenpeace expects at least five of the six British activists to be back on UK soil on the same day, including Alex Harris, whose parents live in Dolton, and Iain Rogers from Exeter.
Greenpeace tweeted on Boxing Day: "Kieron Bryan got his exit visa today, he looks pretty happy about it!"
Mr Bryan, who visited his son in St Petersburg before his release, said his return was "going to be pretty emotional".
"His mother hasn't seen him since September - it's something we wouldn't wish on anyone to experience."
'His own man'
Kieron, who lives in London, had faced charges of hooliganism with the rest of the crew and was held in jail, first in the city of Murmansk then later in St Petersburg, before being released on bail in November.
The activists had been asked to attend a meeting at Russia's Investigative Committee, where the criminal case against them was being dropped en masse, Greenpeace said.
Mr Bryan, from Shebbear, said his family had "tried to be as positive as we can be".
"I am not sure how much it will change Kieron.
"He is very much his own man and he will want to continue to work at what he enjoys doing.
"If that involves the element of risk which obviously there was in this particular project, I don't think it will affect him hugely.
"If he believes in making films about slightly controversial subjects, he should continue to do that."
He said all the family were proud of Kieron, who had "handled himself remarkably well in the circumstances throughout the ordeal".