Kingskerswell bypass: Bridge demolition work on Christmas Day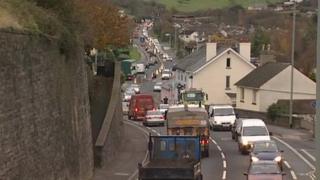 A railway bridge demolition that is part of the £110m South Devon Link Road construction was starting first thing on Christmas Day.
Builders of the 3.4 mile (5.5km) dual carriageway will also be carrying out flood alleviation work.
Devon County Council said the work would affect the main train line and therefore has to be carried out when trains do not run.
The road will link Torbay and Newton Abbot, bypassing Kingskerswell.
Other works will also be taking place over the festive period on the Torbay line.
Acoustic barriers
The council said the building contractor Galliford Try would "take possession of the railway" at the accommodation bridge on Torquay Road, Newton Abbot, and Aller Orchard, Langford and Manor Drive, Kingskerswell, between 25 and 29 December.
There will be no trains running to or from Torbay and Newton Abbot on 27 and 28 December. Replacement bus services will be provided by Network Rail.
The council said users of the A380 would be unaffected and pedestrians would be redirected.
About 800 residents received letters earlier in the year warning them of the demolition and culvert work.
Galliford Try said it was undertaking a number of measures to minimise the impact on local residents, including erecting acoustic barriers to reduce the level of noise.
Jim Watson, project director at Galliford Try, said: "We know that some residents may find this construction work disruptive around the Christmas period but this activity is a fundamental part of the flood relief programme and the construction of the South Devon Link Road."
The link road - which is expected to remove 95% of traffic away from Kingskerswell - is due to be completed by December 2015.