Torbay Council cuts will result in 'nastier place to live'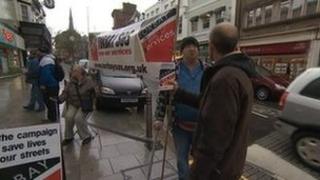 Organisations in Torbay who work with vulnerable people have joined together to campaign against possible cuts.
Elected mayor Gordon Oliver has proposed cuts to the unitary council's Supporting People budget.
Nick Pannell, who is leading the Torbay SOS group, said a re-think was needed as the proposals would make the bay a "nastier place to live".
Mr Oliver said the planned cuts, part of a £22m savings package, were currently just draft proposals.
Planned savings include the Leonard Stock Centre hostel in Torquay being told its £300,000 grant faces being cut by £150,000.
The centre provides accommodation for 24 homeless people, many of whom have mental health problems and complex needs.
Budget 'balance'
Other proposed cuts include withdrawing supported employment for people with learning difficulties, cutting funding for sheltered housing for older people and withdrawing funding for accommodation for offenders on licence.
At the launch of Torbay SOS [Save Our Services] at Torquay Town Hall, Mr Pannell said: "There is a real strength of feeling that these plans are not just morally wrong but will make Torbay a meaner, nastier place to live in.
"They will mean no respite, no road to recovery, from the addictions, mental health issues and life events which precipitate homelessness among bay residents."
He added the authority should even consider raising council tax to protect funding for such services.
In a statement, Mr Oliver said no final decisions had been taken and his priority was to protect adult and children's social services.
He added: "We want to try and achieve a balance between the statutory services that we are required to provide by law and those that residents say they value the most.
"There are certainly no easy answers in this budget, and it has and continues to be a painful process."
A final decision is due in February.