Devon Greenpeace Arctic 30 crew's joy at freedom hope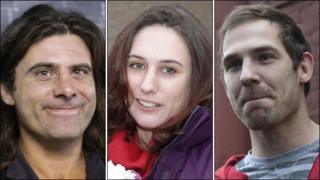 Members of the Greenpeace crew held in Russia are celebrating after hearing that they may be freed.
Iain Rogers, 37, Alex Harris, 27, and Kieron Bryan, 29, from Devon, are among six Britons held in Russia.
The Russian parliament has voted for an amnesty for 28 Greenpeace activists and two freelance journalists.
Mr Bryan tweeted: "Unanimous vote. We got amnesty. It doesn't seem real. Merry Christmas everyone, this will be my best ever wherever I am!"
Alex Harris, from Winkleigh, tweeted: "TBH, I'm feeling strange. A lot of relief to be going home, though we don't know when. It's a bit emotional, what a journey!"
Crew members from Greenpeace's Arctic Sunrise ship were charged with hooliganism after a protest in the Arctic in September. They were released on bail last month.
After the Russian parliament's vote, Greenpeace said that legal proceedings were now almost certain to come to an end.
The charity said it was not yet clear when the group would be allowed home, or what will happen to its vessel the Arctic Sunrise, which has remained impounded in Murmansk since the arrests.
But it expects that the 26 non-Russians will be free to return home as soon as they are given exit visas by the authorities.
Mr Bryan's mother Ann, from Shebbear, said: "It is just brilliant. We are over the moon.
"We are still in a state where we can't quite believe it. But we are thrilled.
"It's long overdue and we are going to have such a good Christmas."
Ms Harris tweeted: "For me this is not the end, it's only the beginning. I look forward to going home but I'm more determined than ever to #savethearctic."