Warning on Royal Devon hospital emergency visits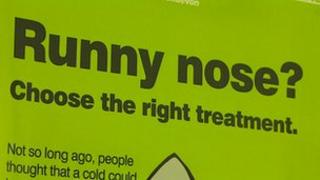 Officials at a Devon hospital say "10-20%" of accident and emergency patients could be treated elsewhere.
The Royal Devon and Exeter Hospital's Emergency Department (ED) sees between about 200 and 350 patients a day.
ED consultant Adam Reuben said many patients could be treated elsewhere, either with their GP, at a walk-in centre or at a pharmacy.
The hospital and clinical commissioners have started a campaign to tell patients about alternatives to ED.
The hospital trust said that more than 92,000 people had attended ED so far this year, with the busiest day in July when it saw 346 patients.
Service 'stretched'
Mr Reuben said: "We are busier than in any previous year.
"Our priority is to give the highest quality care possible. but clearly when it's busy that's harder to achieve.
"On a relatively quiet day we might see 250 patients and things are calm, quiet and organised.
"When that figure reaches 350 things become much more stretched."
The kind of conditions that could be treated elsewhere included back pain and gastro-related and viral conditions such as coughs and colds.
"All patients who turn up here will receive the appropriate treatment," said Mr Reuben.
"But the resources we have are finite, so the busier we are the less time we have with other patients who are perhaps more needy of our time."
The Choose Well campaign is aimed at reducing pressure on EDs by giving people information on where to get treatment "at the most appropriate place".
Dr David Jenner, a Devon GP and chair of the Eastern Locality of Northern, Eastern and Western Devon Clinical Commissioning Group, said: "Our message to people is to choose the right service that meets their needs this winter.
"That may be their family GP practice, local pharmacy, or a walk-in centre/minor injuries unit. If you're unsure, before turning up at the emergency department, call NHS 111 or go to www.nhs.uk.
"I'd also remind people who aren't already registered with a GP practice to do so as soon as possible. This will help avoid any delay in getting a doctor's appointment."