Devon and Plymouth alcohol consumption figures 'shock'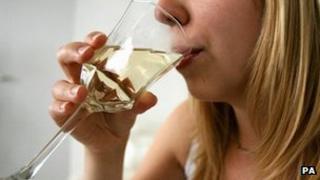 Almost 200,000 people in the Plymouth City Council and Devon County Council areas are "high-risk" alcohol drinkers, figures from the two councils say.
Of those, more than 30,000 were alcohol dependent, said the councils, which have a total population of about 1m.
A Devon councillor responsible for health and wellbeing said she was "very shocked" by the figures.
Figures requested by the BBC revealed 145,507 high-risk drinkers in Devon, and 50,447 in Plymouth.
Devon County Council said there were 27,000 people physically and/or psychologically dependent on alcohol in its area, while in Plymouth there were 5,420 people in the same situation.
Councillor Andrea Davies, who is responsible for health and wellbeing at Devon County Council, said: "These are truly shocking statistics.
"High-risk drinkers are putting themselves at long term risk of health problems that will come to them in years to come.
"The cost to the NHS is huge every year and we need to all think about how much we're drinking and what would be a sensible amount."
The council figures were collated after local authorities took over public health responsibilities from the NHS last April.
Before that, the South West Public Health Observatory said in February 2012 that alcohol-attributable hospital admissions increased by 66% between 2002/03 and 2009/10 in the Devon county area.
In 2009/10, 31,120 people in the area were admitted to hospital either wholly or partly due to alcohol.
In Plymouth, alcohol-attributable admissions increased by 71% during the same period, with 13,256 hospital admissions in 2009/10.
The overall rate of alcohol-specific hospital admissions for Devon in 2009/10 was 433 per 100,000 of population, and 641 per 100,000 for Plymouth.
These compared to a rate of about 500 per 100,000 for England.