Devon Greenpeace Arctic 30 families may fly to Russia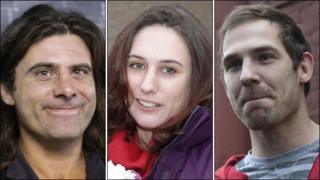 Relatives of Devon's Greenpeace Arctic 30 may fly to Russia for Christmas after an official letter said foreign nationals would not be allowed to leave the country.
Alex Harris, Kieron Bryan and Iain Turner are among the 30-strong crew of the Arctic Sunrise in St Petersburg.
They were bailed last month on charges of hooliganism and had hoped to able to leave the country until their trial.
Their families said they were "bitterly disappointed and heartbroken".
Linda Harris, from Winkleigh, whose daughter Alex acted as a communications officer on the Greenpeace ship, said she felt "torn" because she and her husband Cliff desperately wanted to go to Russia, but his mother was very ill in hospital.
"I'm bitterly disappointed it now looks like she won't get home," she told BBC News.
'Not unexpected'
"I think we will go, but we'll make our decision in the next day or two.
"I speak to her every day and although she's very disappointed and a bit down, Alex's told us her gran needs to be our priority."
Video journalist Kieron Bryan's mother, Ann Bryan, said although the news was "not totally unexpected", it was still a blow.
Her husband Andy, who has been out in Russia, is due to return home to Shebbear later, but the couple are now planning to fly back to Russia together.
"We're making plans to be out there with him for Christmas if it should be necessary, which is looking like it probably is," Mrs Bryan said.
In a telephone interview with BBC Radio Devon, Kieron Bryan claimed the Russian Investigative Committee's decision not to allow them to leave went against an international law and was "frustrating and quite vindictive".
'More compassionate'
Sue Turner, whose engineer son Iain Rogers, is also in St Petersburg, said she and his sister may hold a Christmas Day vigil outside the Russian Embassy and if her son is not home early in the New Year, she will apply for a travel visa.
"It's the Russian judicial system - they've got their own law and their own way of doing things, but I think they should be a bit more compassionate," she said.
Mrs Turner said if Iain had to stay in Russia until after the trial it could be spring before she saw him.
"I'm going to wait until the New Year, then I'll reassess the situation and I may apply for a visa... I think he may need some personal support by that stage."
The crew of Greenpeace's Arctic Sunrise come from 16 countries, with six coming from the UK.
They were arrested on 18 September following a protest at an Arctic offshore oil rig and spent two months in prison, in Murmansk and St Petersburg, before being released on bail.
The original charges of piracy have been downgraded to hooliganism.