Rehab centre helps residents through 'difficult' Christmas and new year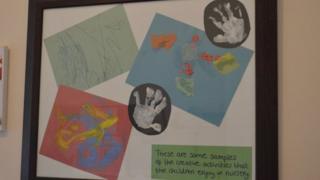 Christmas and new year are renowned for overindulgence, and, for those dealing with substance abuse problems, it can be a dreaded time.
Staff and residents at Plymouth's Trevi House, a drug and alcohol rehabilitation centre for women with young children, have been working to ensure it will be "a time of joy" despite previous substance abuse problems, manager Hannah Shead said.
Residents, who can live with children aged up to eight, undergo a 26-week programme.
The centre also offers support to mothers who want to live independently in the community, free from drugs or alcohol while meeting the needs of their children.
And keeping with a positive atmosphere, many of its walls feature pieces of art by the children, with hand and footprints in paint appearing to be a particularly colourful favourite.
Usually it is home to about 10 residents and their children. Over Christmas and new year it will house six residents and 10 children, Ms Shead said.
However, while some residents will have their children with them, others will not.
This is either because their children are older than the maximum age the centre is licensed to house, or they are being looked after elsewhere.
Ms Shead said: "We take in pregnant women, and children aged between nought and three is what we see most of. Those are important years from an attachment perspective.
"For those with older children, it's always hard.
"We take women from across the UK. Once they're on the programme they're 'grounded' [from leaving the programme to visit home and to return at the same stage].
"While it might be hard at Christmas, it's one Christmas in a lifetime. This one missed Christmas could be the one to ensure they become the mother they need to be."
This was something some of those older children also realised, residents added.
Clare, who has children aged 14 and 18 years old in Scotland, said: "I'm comfortable with the idea of being here and my two are happy I'm here.
"It would be dangerous for me to be outside of here at this time of year."
Fellow resident Sasha said: "I'm a bit sad for my children.
"I appreciate how it will be for the kids, but even my eight-year-old said 'I'm happy you're there'.
"And I've been looking forward to this Christmas and new year to see the nice side of it because all my previous ones have had drink or drugs."
While its work goes on year-round, the festive season is always a special time, Ms Shead said.
"For some, it will be the first time in many years that they will have had a drug-free Christmas and be able to really enjoy it without that chaos," she said.
"New year is so associated with alcohol, so, for people in recovery they may think of it as a difficult, challenging and unhappy time of the year for them.
"Working in this industry, you become sensitive to it and realise how awash with alcohol it is."
Although many residents have undergone detox before entering the centre, some will still be on withdrawal medication during the festive season.
Carly, who is nearing the end of her detox regime, said she appreciated the support of people at a difficult time of the year.
"Trevi has worked it out so I'll be stable over Christmas. I don't think I would have been able to detox on the outside," she said.
And those who complete the programme and return to their families know their next Christmas will be even more special.