Damien Hirst plans 750 homes in Ilfracombe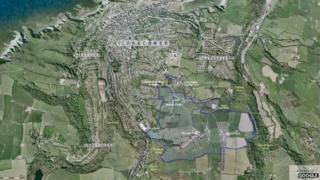 Artist Damien Hirst plans to build 750 homes on land he owns in north Devon.
The outline application for Ilfracombe also includes plans for a primary school, shops, business units and a health centre.
The artist's desire for homes "he would like to live in" has been the focus of public exhibitions and workshops for more than a year.
A decision on the outline application for the Southern Extension is not expected until May or June.
Last year Hirst donated a giant bronze statue of a pregnant woman to the town.
Known as Verity, the sculpture - on loan for 20 years - divided opinion in the town, although councillors insisted it had brought in more visitors and had had a "tremendous effect".
'Lifeless horror'
Winsham Farm - bought by Hirst about 10 years ago - is near the centre of the proposed 187-acre housing development, although four other landowners are involved.
The outline planning application does not include details of the design of the new houses - some of which will be categorised as "affordable" properties - but a spokesperson for Hirst said the artist would be involved in this.
Architect Mike Rundell told planners earlier this year the artist wanted to create a "blueprint" for environmental housing which would help regenerate the area.
"He has a horror of building anonymous, lifeless buildings," he said.
"He wants these houses to be the kind of homes he would want to live in."
But resident David Watts said while he believed Hirst's intentions were good, his vision was a "pipe dream" which would "wipe out" much of the local wildlife.
"We're a seaside resort, our transport's not wonderful and there aren't a lot of jobs about, so who's going to buy all these houses?" he asked.
"I've nothing against the artist, he's got a lot of money, but in my opinion he'd be better off using it for an all-weather attraction.
"At the moment people can stand in the rain and watch Verity get wet, and that's it."