Travellers offered £500 to spend on vehicles to move sites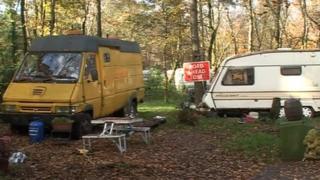 A Devon council is offering traveller families up to £500 to spend on their vehicles and caravans if they move to an official site.
Teignbridge District Council has made the offer to 15 families if they will move from the Haldon Hill site near Exeter to a neighbouring official one currently under construction.
Critics have described it as "a waste of taxpayers' money".
The council said the money could only be used for roadworthy vehicles.
Haldon Hill has been used illegally by travellers for 11 years.
Work has just started on the new 15-pitch site at Haldon Ridge, which is being paid for by a government grant of £1.1m.
However, the £500 offer is coming from the council's budget.
Dudley Swain, from Dunchideock, who has campaigned against the new site, said the offer would leave council tax payers "pretty miffed".
"I don't see why it should should not come out of the government grant because it would be part of the project cost," he said.
The council defended the use of public money saying it would help the new site progress and enable the old one to be reclaimed more quickly.