PM in vow to Izzy Dix's mother over online bullying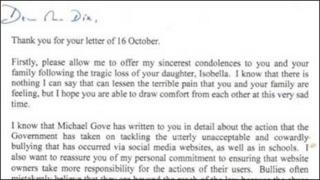 David Cameron has vowed to put pressure on website owners to stop online bullying.
The prime minister wrote to Gabbi Dix, the mother of Izzy Dix, 14, who was found hanged at her home in Brixham, Devon, on 17 September.
Police are investigating the teenager's death amid claims that she was the victim of bullying on a social media website.
In his letter, Mr Cameron attacked "cowardly bullying" on social media.
Ms Dix wrote to Mr Cameron about the campaign she is leading for "real change to the way bullying is dealt with in society".
Mr Cameron wrote of his "personal commitment" to ensuring that website owners "take more responsibility for the actions of their users".
He said: "Bullies often mistakenly believe that they are beyond the reach of the law because the abuse that they commit occurs online.
"I am very clear that this is not the case, and that police have the power to investigate it as they would any other crime."
Referring to the death of his severely disabled son Ivan in 2009, Mr Cameron continued: "Whilst I know this will be of scant consolation at this time, I know from my own experiences of losing a child that there will come a day when you will be able to see past the pain to remember the happy times that you once shared together, and the great joy that Isobella brought to those who knew her."
He added in a footnote: "We will do everything we can to put pressure on those that own, run or advertise on these websites."
Ms Dix said she was determine to see "real change".
"I was very pleased to receive the letter from David Cameron," she said.
"It's great to know that he appears to be on our side in the fight to crack down on bullying and cyber bullying, but let's not kid ourselves - there is still a long way to go."