Devon Air Ambulance plans to fly after dark 'within five years'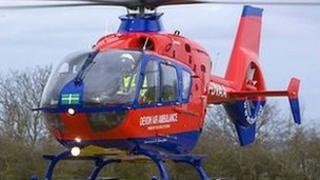 Devon Air Ambulance managers say they hope to have an aircraft flying after dark within the next five years.
The air ambulance trust said it would be a "big leap forward" in helping patients, particularly in winter.
Around the country, few air ambulances operate at night because extra equipment and specialist training is required.
Devon has two EC135 helicopters, in Burrington and Exeter. The Burrington one has night flight equipment.
The trust said its vision was to have a service that was available 24 hours a day and that the newer helicopter, GDAAN, was already compatible with night flying.
Helena Holt from the trust said staff were "actively working" on flying after dark and if successful, it would be a "big change in terms of the number of people we can assist".
Changes needed include additional crew training and funding for extra flying.
Ms Holt said: "During the summer, the trust was able to have the aircraft flying until nine in the evening.
"In winter, it's dark by half four in the afternoon, so you can imagine how many more people we would be able to treat and convey if we could fly then."
The Devon Air Ambulance Trust has to raise up to £4.5m each year to run its aircraft.
Since 1992, it has flown more than 20,000 missions.