Broken walking stick 'led to Dorothy Stevens river drowning'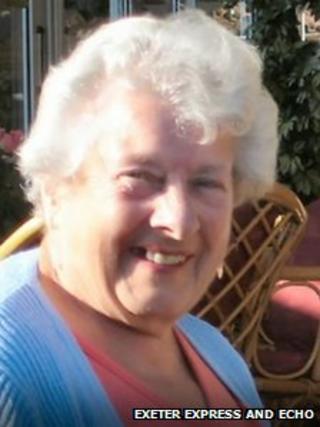 A pensioner drowned after falling into the River Exe because her walking stick broke and not because of any safety shortcomings, a jury has heard.
Dorothy Stevens, 80, from Silverton, Devon, died in 2010 after falling from the steps of Butts Ferry in Exeter as she disembarked.
The city council denies breaching health and safety laws.
Independent adviser Michael Welham told Exeter Crown Court there was no obvious risk.
The ferry, which is manually pulled across the River Exe by a cable, carries up to 30,000 people a year across Exeter Quay.
'Lose balance'
Mr Welham, who gave evidence for the council, said there had been no accidents or complaints for more than 40 years.
He said tens of thousands of passengers had used the ferry without any problems and there was a bridge nearby for anyone who was too frail to cope with the steps.
"In my opinion it was the stick breaking that probably caused her to lose balance and fall backwards," he said.
He said any danger could not have been obvious at the time because the Health and Safety Executive (HSE) did not close the ferry or order immediate improvement after the accident.
The court also heard from Paul Evans, a consultant orthopaedic surgeon in Plymouth, who said Mrs Stevens was not very agile and she would have needed a stick to climb the steps.
He said that her collapsible stick was "not as reliable as a solid stick" and added: "If she hadn't unbalanced in that way the probability is that she would have been able to negotiate the steps."
The case was brought by the HSE, which alleges the council exposed the public to unnecessary risks.
'Inherently unsafe'
Kevin Hallas, an expert for the prosecution, told the jury he found the steps were not safe.
Mr Hallas, who works at the Health and Safety Laboratory, said the height difference between the first step and the rest made them difficult to use.
Mrs Stevens, who had arthritis in her hands, joints and right knee, had travelled into Exeter with her daughter and granddaughter in July.
The Women's Institute member, who could not swim, was trying to move from the platform to the first step when her stick broke and she lost her grip on the hand rail.
She fell and rolled into the water and drowned.
The ferry is operated by a contractor but owned by Exeter City Council, which is responsible for the landing stages on either side.
The council deny the charge under the Health and Safety Act and say the accident could not have been foreseen.
HSE inspector Georgina Speake said the ferry was not closed straight away because it waited to see Mr Hallas' report before asking the city council to make improvements.
Flatter steps and extra handrails have since been put in place.