Twomey crash deaths: Police response 'appropriate'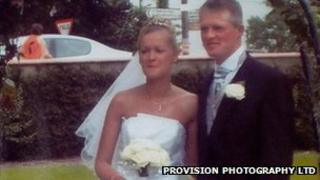 Police officers who followed a suicidal driver as he collided with a car, killing himself and three members of the same family, acted appropriately the police watchdog said.
Marek Wojiechowski killed Con Twomey, his toddler Oisin and his unborn child in Torquay, Devon, last year.
The crash's only survivor, Elber Twomey had criticised the police actions.
The Independent Police Complaints Commission (IPCC) said officers responded "quickly and effectively".
Mr Twomey, 39, his 16-month-old son, Oisin, and his unborn daughter all died as a result of the crash when Mr Wojiechowski, a 26-year-old Polish taxi driver, veered his car into the Twomey's car.
The family were on holiday from Meelin in Cork in the Republic of Ireland.
Devon and Cornwall Police were told that Mr Wojiechowski was suicidal and he was being pursued by police in Hamelin Way when he hit the family's car.
Mrs Twomey told an inquest flashing police lights had "panicked" Mr Wojiechowski.
'Deliberate act'
On Monday, the inquest jury ruled that he died as a result of a deliberate act in an attempt to commit suicide.
It also ruled that Oisin died as a result of a deliberate act by Mr Wojiechowski in his attempt to commit suicide.
A separate inquest will be heard in Ireland in relation to Mr Twomey's death.
The incident was referred to the IPCC by Devon and Cornwall Police on 9 July 2012.
It said the inquest verdicts marked the end of its investigation into the force's response to the "high risk missing person".
It added that the force "dealt with this incident both seriously and appropriately and that there is nothing to suggest that, had the incident been dealt with differently, the tragic circumstances could have been avoided".
IPCC associate commissioner Tom Milsom said: "The IPCC has investigated all of Devon and Cornwall Constabulary's actions and involvement with Mr Wojiechowski in the short time between the call to say that he was suicidal and the fateful moment when he deliberately swerved his car in to the Twomey's family car.
"The police acted quickly to the initial call and their response was both speedy and within the set guidelines.
"There is no evidence to suggest that the force's response was in any way deficient."
'Horrific story'
Police were alerted at 14:12 BST on 6 July to reports that Mr Wojciechowski had gone missing and that he was "going to end it".
He was graded by the control room as high risk. Just over 30 minutes later, he drove his Vauxhall Vectra in to oncoming traffic.
The IPCC said Mr Wojciechowski "deliberately" swerved across the carriageway. He died in hospital later the same day.
Oisin died on impact and his father died from his injuries 10 months later.
Speaking at the inquest, Mrs Twomey said she hoped Devon and Cornwall Police would learn from her "horrific story".
The coroner said the officer involved carried out his duty in an exemplary fashion and followed guidelines - but said the guidelines should be reviewed.