Colyton Grammar School teacher sentenced for child abuse images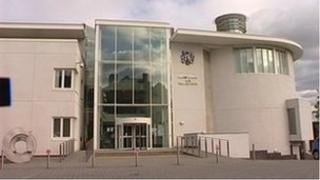 A senior teacher who had 6,600 child abuse images on his computer was caught by an undercover detective who posed as a paedophile, a court has heard.
Peter Webber, 51, resigned as head of science at Colyton Grammar School in Devon after he swapped fantasies in a chat room with the undercover officer.
Webber, from Lincoln Close, Exmouth, admitted 15 charges of making and two of distributing indecent images.
He was sentenced to six months in jail, suspended for two years.
Colyton Grammar School said the offences did not relate to the school or anyone in its community and that members of staff were still shocked.
Act on fantasies
Exeter Crown Court heard that Webber was found after he entered a chat room discussion with an undercover officer.
Janice Eagles, prosecuting, said: "The officer asked whether he would act on his fantasies in relation to having sexual activity with a 12-year-old girl and he indicated he would."
Officers found 6,687 images, which included 262 showing children having sex with adults and 35 in the most serious category, which showed torture, sadism or bestiality.
Judge Phillip Wassall said he had spared Webber jail because he had acknowledged his addiction to pornography and had already started working with the charity, the Lucy Faithfull Foundation, to overcome it.
He ordered Webber to attend a sex offenders' treatment programme.
'Horrific offences'
Judge Wassall said: "Your work as a teacher put you in the presence of children, and there is no suggestion that you crossed the line and sought to engage the children in your fantasies, despite having the facility to do so.
"You did not enter into any form of contact with children despite having ample opportunity to do so.
"You were able not to cross the line despite the distorted thinking that led you to commit these gross and horrific offences."
The court also heard that after his arrest Webber tried to commit suicide at the home he shared with his wife and two sons.
Adrian Chaplin, defending, said Webber had taken responsibility for his behaviour, admitted it to family and friends, and defied the advice of his union by resigning on the spot.
"This case has led to the loss of a career of which he was justifiably proud. It was a 29-year career in which his work was inspirational," he added.