Butts Ferry death: Steps 'were unsafe'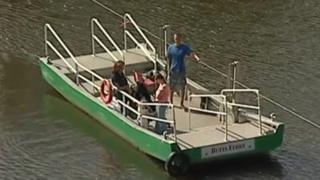 A city council has gone on trial after a woman fell from ferry steps and drowned.
Dorothy Stevens, 80, from Silverton, Devon, died in July 2010 after the fall from the steps of Butts Ferry in Exeter, Devon.
The historic ferry, which is manually pulled across the River Exe by a cable, carries up to 30,000 people a year.
Exeter Crown Court was told the handrail and steps were unsafe, but the council denies breaching safety laws.
The ferry crossing is believed to have been in use since the mid-17th Century.
The case was brought by the Health and Safety Executive (HSE) which alleges the council exposed the public to unnecessary risks by not doing everything "reasonably practical" to ensure the safety of those getting on and off the ferry.
Mrs Stevens, who had arthritis in her hands, joints and right knee and walked with a stick, had travelled into Exeter with her daughter and granddaughter, the court was told.
They did not use the ferry when first crossing the Exe as Mrs Stevens thought the steps looked too steep, but decided to use it on the way back as a short cut.
However Mrs Stevens, who could not swim, struggled to get up the steps and when her walking stick broke, she fell sideways into the water.
'Floating bridge'
David Morgan, for the HSE, told the court the city council had broken safety rules by not ensuring the ferry's steps and handrail were safe.
He said the steps were of an uneven height, while the handrail, which did not go down to the bottom of the steps, was inadequate and did not properly deal with the risk.
Since her death, there had been a "complete alteration" of the steps and handrail, Mr Morgan said.
Flatter steps and extra handrails had been put in place and the jury was shown photographs and a scale model of the steps at the time of the fall.
The distinction between then and now was "enormous", he said, adding that the major changes put in place showed the layout in 2010 did not adequately deal with the risk.
The council, which has described Butts Ferry as "one of only five floating bridges in the country", denies breaking the Health and Safety at Work Act.