Greenpeace protestor mother hopeful of a Christmas reunion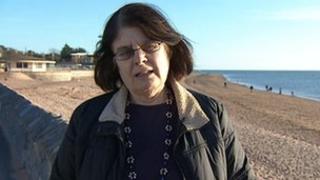 The Devon mother of one of the Greenpeace crew arrested in Russia is hopeful her son will be home for Christmas.
Iain Rogers from Exeter was one of the 30 people held by the Russian authorities after a protest in the Arctic.
All six British people arrested were freed from detention earlier this month.
Sue Turner said her son's Christmas return would be "a lovely bonus".
Mr Rogers was one of 28 activists and two journalists who were detained after a protest at an Arctic offshore oil rig, owned by the Russian company Gazprom, in September.
The crew members were originally charged with piracy, but Russian authorities dropped those charges and replaced them with hooliganism, which carries a lesser sentence.
Earlier this month, the International Tribunal for the Law of the Sea, sitting in Hamburg, ruled that the ship and those arrested on board should be released in return for a 3.6m euro bond (more than £3m).
Mrs Turner said: "I am sincerely hoping that [Iain] will be home and all the rest will be returned to their families for Christmas.
"It would be a lovely bonus if not I am planning to go out to St Petersburg in the New Year."
Mr Rogers is on bail in the Russian city along with Alex Harris, a Greenpeace press officer, whose parents live near Exeter.
Video journalist Keiron Bryan, whose parents also live in Devon, is also on bail.