Memorial garden opens for Paignton mother and sons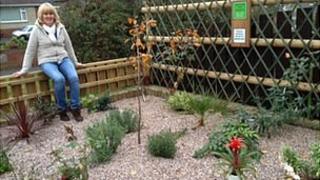 A memorial garden has opened dedicated to a Paignton mother and her two young sons.
Katharine Hooper, 24, died with her son Josh, 5, in July after falling more than 80ft at Haytor on Dartmoor.
Her youngest son, two-year-old Samuel, was found dead at the family home.
A Serious Case Review is currently under way to examine whether the family had been failed after it emerged they were known to social services and other agencies.
Neighbours who have created the garden said Ms Hooper and her sons were "loved in the community."
Janette Nolan, one of Ms Hooper's neighbours said: "Nobody had touched this land for many years. When this tragedy happened I just felt we needed to do something."
A cherry tree stands in the middle of the garden, along with roses and fuchsias.
Ms Nolan said: "I wanted to try and think about plants that would bloom at different times of the year. There will always be a bit of colour in the garden.
"I think she would burst out crying if she saw it because it would make her realise how much people did care about her and the boys and how much she was loved in the community."
An inquest date has not yet been set.