Unite says no strikes over Flybe job cuts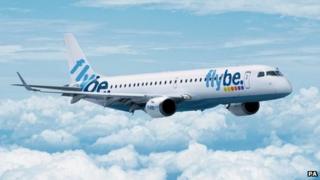 The union Unite has ruled out industrial action over job losses at the airline Flybe.
Three unions met managers to discuss redundancies announced in a cost-cutting plan.
Flybe is proposing to close six bases including Jersey and Guernsey and lose 116 posts at its Exeter headquarters.
The job losses are part of 500 redundancies across the country which Unite, pilots union Balpa and Prospect will be discussing.
Bases at Aberdeen, Inverness, Isle of Man, and Newcastle are also to close.
Unite said Flybe had been "very open" with the union which was aiming to ensure that there were no compulsory redundancies.
Jan Chisholm of Unite said after the meeting: "It is a very anxious time coming up to Christmas.
"But it is early days yet, we have a long way to go."
The airline which reported pre-tax profits of £13.8m for the six months to 30 September, compared with a loss of £1.6m a year earlier, is aiming to save £85m over the next few years.
Flybe cut 490 jobs in 2012-13, with a further 100 going in the first half of 2013-14. It now employs 2,700 people.