Park View care home women win tribunal appeal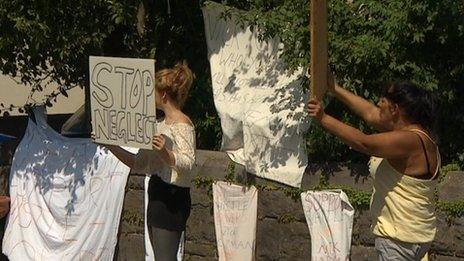 Two women sacked for exposing care home failings have won a legal battle to receive thousands of pounds they were awarded for being unfairly dismissed.
The owner of Park View Care Home in Plymouth had challenged the award to Rosemary Parker and Launa Llewellyn-Jones at an employment tribunal.
The tribunal said owner Nick Chapman's arguments could not be relied on.
The women said the ruling was "brilliant" and they would now seek help to get the money they were owed.
Ms Parker and Ms Llewellyn-Jones raised concerns about the treatment of residents at the home in February, which sparked an inquiry into standards at the care home.
The original employment tribunal, held earlier this year, awarded Ms Parker and Ms Llewellyn-Jones £40,000 between them for loss of earnings and unfair dismissal, but they did not receive the money.
In August the women staged a "sit-in" at the closed home, but were evicted after seven days.
Mr Chapman appealed against the ruling, but the tribunal judge in Exeter dismissed the appeal.
"It's brilliant, but obviously we haven't got the money yet," Ms Parker told BBC News.
"We're going to go and see the Citizens Advice Bureau to get some help to get this money which the judge has said we're entitled to."
Ms Llewellyn-Jones said the tribunal's ruling was an "important message" to care home owners and staff that it was possible to "get justice" for wrong doings at care homes.
"It's literally all about justice," she added.
Mr Chapman, who did not attend the tribunal, has not commented on the ruling.