Exmoor Christmas carols revived by charity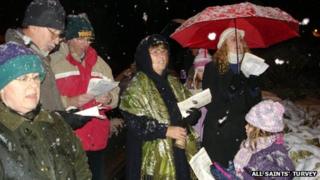 Traditional Exmoor Christmas carols - some not heard since the 18th and 19th Century - are being revived in Devon and Somerset.
As well as teaching and performing, charity Wren Music has published a book of some of the "lost" carols collected by local folk song researchers over a 30-year period.
Musical director Paul Wilson said some of the carols found in old church chests were "a bit mouse-eaten".
A total of about 150 carols were discovered by Bob and Jacqueline Patten and have been added to their English Folk Music Collection which includes traditional songs, music, storytelling and customs from Somerset, Dorset, Devon and Cornwall.
The couple, who live in Morchard Bishop, Devon, carried out most of their research while they were based in north Somerset.
Wesleyan preachers
"Once our interest in the local carols became known, people came forward with manuscripts and others said 'oh you should speak to so-and-so' and it just grew," said Mr Patten.
"We've done this to raise awareness about the local carols and for local groups on Exmoor to perhaps take them on."
One of the carols, "Once More Behold" by John Bawden of Exford, dates back to 1884. The manuscript was found in Exford and Roadwater and the carol is thought to be unique to Exmoor.
Mr Wilson said local carols thrived on Exmoor because of the area's remoteness.
"The whole tradition goes back to the Wesleyan era, when preachers would visit these rural areas in the 1780s and 1790s," he said.
"They wandered about, teaching other carols and they would settle in farmsteads, so in very remote places like Exmoor, the tradition carried on, whereas in other parts of the country, it died away."
Despite that, he said Exmoor carols are less well known than some other traditional "strongholds" like Yorkshire, the Peak District and Cornwall.
"In these areas the carols have survived in vigorous form, but the Exmoor carols haven't been as well known because there hasn't been as much research done - until now," he added.
Mr Wilson said some of the carols being taught by the Wren Music team have literally been kept in the dark and will not have seen the light of day for many years.
"Some of them are hand-written, some of them were done using old-fashioned printing, some of them are typed and some of them are a bit mouse-eaten from being stored away in old church chests for many years," he said.
"The Christmas carols that everyone knows about are just the tip of the iceberg.
"There are loads more that have local connections, like the Sans Day Carol from Cornwall, which is a version of The Holly and the Ivy.
"One of the Exmoor carols we're doing was written in the 1880s by a guy from Porlock called George Hawkins. It's a setting of Hark the Herald Angels but it's his own tune and it's absolutely brilliant.
"The vast majority of these old carols are completely different to the ones we all know and sing every Christmas... I've never heard many of them before."
'Pub singing'
The carols are from areas including Chittlehampton, Lynton and Bratton Fleming in Devon and Roadwater, Dunster, Exford, Wheddon Cross and Porlock in Somerset.
Earlier this month, Wren Music held a music workshop for singers and musicians followed by a performance of the carols at Halsway Manor, a folk arts centre near Crowcombe in Somerset.
Wren has published 25 of the Exmoor carols in two volumes, both entitled "Come Sing for the Season".
Mr Wilson said the aim was to see the Exmoor carols "thriving again".
"We want people to be singing them in their homes and their pubs - and it would be lovely if local churches introduced them too," he added.