Torbay Hospital GP service axed in favour of nurses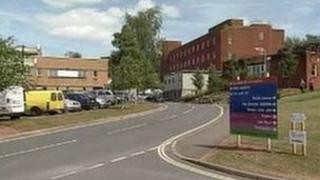 A GP service at Torbay Hospital is being axed because the money can be "better used" to strengthen the emergency department, health chiefs have said.
South Devon and Torbay Clinical Commissioning Group (CCG) said it will instead provide five extra A&E nurses.
The full-time nurses - two of whom will be paediatric nurses - will join Torbay casualty department.
They will replace the 8-till-8 GP service, from 1 December.
The CCG said it has been looking at all its contracts to make sure they are providing the "best possible service for patients, within the means available".
'Considerable benefits'
Dr Ellie Rowe, clinical lead for commissioning, said: "GPs leading the CCG agreed that the money being used to fund the walk-in GP service at Torbay Hospital could be better used to strengthen staffing within the hospital's emergency department instead.
"As a result, five extra nurses will be working in the emergency department, meaning a significant boost for the workforce and helping to make sure that people don't have to wait too long to be seen."
Dr Rowe added they are expecting the emergency department - which also has consultants and registrars - to be busy over the winter months, and are confident that the extra staffing will bring "considerable benefits".
The GP walk-in services were established by the now-abolished Primary Care Trusts under instruction from the Department of Health.
Under the reformed system, the new CCGs, led by doctors, are able to evaluate hospital and community services and decide whether or not to continue them.
Dr Rowe said it was felt the health needs of the local population would be better served by the extra nurses in A&E.