South West Water fined over Salcombe sewage pollution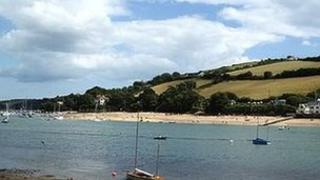 South West Water (SWW) has apologised for sewage spills which polluted two beaches at a Devon holiday resort.
Bathers were told not to go into the water when sewage leaked from a corroded inspection hatch and flowed onto South Sands during the annual Salcombe Regatta in August last year.
The previous month, sewage from a cracked pipe at Chapel End polluted the nearby beach.
SWW was ordered to pay £60,000 in fines and costs by Torquay Magistrates.
The Environment Agency said a sample of the discharge taken from a polluted rock pool at South Sands on 13 August was found contain faecal coli form bacteria as a result of the spillage.
"South West Water was aware of problems with its sewer pipe work at Salcombe, but did not respond quickly enough to stop these sewage spills that occurred at the height of the holiday season," said Pete Ball from the Environment Agency.
Last year, the water company was fined £30,000 after raw sewage escaped from the town's public sewer and surface water drainage system polluting the harbour and foreshore.
SWW said it accepted responsibility and apologised both for the pollution at Salcombe and the delays in repairing the pipe work at South Sands and Chapel End.
"We would like to reassure our customers that we take reports of pollution very seriously," a statement said.
"It took some time to identify the source of the problem due to the complexity of the drainage network in the area."