Devon and Cornwall police dog's litter of eight born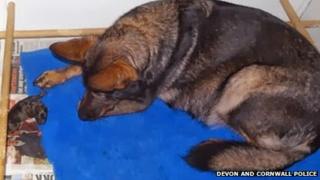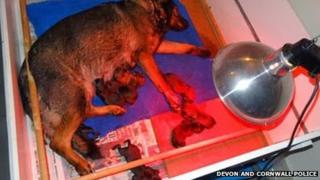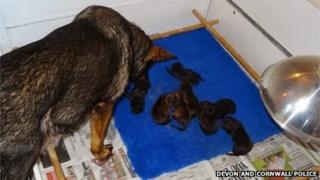 A Devon and Cornwall Police dog has given birth to a litter of eight puppies.
Molly the German Shepherd is the second serving police dog to produce a litter specially bred for the force.
The eight puppies - thought to be three bitches and five dogs - were born on Tuesday.
Once the litter has been weaned, the puppies will spend about a year with puppy walkers before formal police dog training begins.
Paul Glennon, the force's canine development officer, said he "bedded down" with Molly on Monday night as she "appeared restless" and he was convinced the puppies were about to arrive.
The first, or "alpha", litter born to a serving police dog in the force was born in June.
Devon and Cornwall Police used its Facebook page to ask members of the public to suggest appropriate names beginning with the letter "A".
It is thought Molly's litter will all be given names starting with "B".