Devon Arctic Convoy veteran receives medal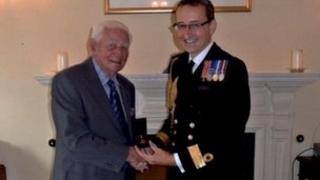 An Arctic Convoy veteran from Devon has been presented with his medal at a ceremony at Plymouth Naval Base.
Louis Vassallo, 88, from Plymouth was 18 when he joined the convoys aboard HMS Campania in World War Two.
The ship faced attack regularly from enemy aircraft and the threat of submarine attack was ever present.
Mr Vassallo, who was presented the Arctic Star honour by Commodore Graeme Little, Commander of HMNB Devonport, said he was "lucky" to receive it.
The Arctic Convoys, reportedly called the "worst journey in the world" by Winston Churchill, took supplies to the Soviet Union from 1941 to 1945.
More than 3,000 men died while on the convoys.
Cdr Little said: "I was delighted to meet Mr Vassallo. It is always very humbling to meet veterans and to be able to recognise such selfless achievements.
"It is particularly gratifying to be able to present an Arctic Star Convoy Medal and with it the long awaited recognition of the sacrifices made over an extended period of time in an area that was critical to success in the Second World War."
'Huge explosion'
Convoy veterans were previously eligible for the Atlantic Star but Cdr Eddie Grenfell, 93 campaigned for 16 years for a specific Arctic medal.
Its creation was announced by David Cameron in December.
The prime minister said earlier this year: "I am only sorry that it has taken 70 years to get to here and to say thank you."
On one occasion HMS Campania was the target of a U-boat torpedo in a near miss that led to the catastrophic sinking of HMS Bluebell.
Mr Vassallo said: "We had been extremely lucky. The torpedo which was directed at us hit our escort, the Flower-class Corvette HMS Bluebell. It went up in a huge explosion."
Just one man survived the attack which saw the ship sink in less than 30 seconds.
Mr Vassallo said: "When I first heard Bomber Command were to be recognised I wondered what more would have been done. I am grateful for this and lucky to receive this medal."
He first served in the convoys in 1944, after leaving the Campania he went on to serve with motor torpedo boats before leaving the Royal Navy in 1946.
His father was also in the Royal Navy.