Gables Farm animals get Christmas presents from locals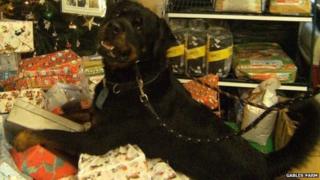 An animal sanctuary in Devon may have a "full house" of unwanted pets this Christmas, but the dogs and cats have not been forgotten by "Santa".
Every animal at Gables Farm in Plymouth has been given a present on Christmas morning, thanks to the generosity of the public.
Each of the boxes are wrapped in Christmas paper and contain a suitable toy, edible treats and shredded paper.
The sanctuary said it was overwhelmed by the donations it had received.
'Helping hand'
"The staff and volunteers always try to make sure the animals have some treats at Christmas, but last year we came up with the idea of the boxes," spokeswoman Katie Barkell said.
"We put an appeal in our newsletter and on our Facebook page and the response was overwhelming - we even had boxes donated by local schoolchildren.
"Every dog and cat had a box from Santa on Christmas Day and there were enough for the dogs to have a second box on Boxing Day."
"The dogs seemed to manage to get into their boxes on their own, but we had to lend a helping hand to open the cats' presents."
Gables Farm, which is a registered charity, is currently near capacity with about 90 cats and 40 dogs waiting to be re-homed.
It looks after about 1,500 animals a year and also offers a paid boarding service, using the profits to help run the home.
Ms Barkell said all the home's staff would be at work on Christmas Day, along with many of its volunteers and registered dog walkers.
"Everyone mucks in to make sure the cats and dogs are happy," she said.