Twomey crash deaths 'affected policing community'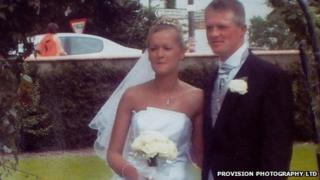 A collision that killed a father, his son, unborn baby and a Polish driver, affected the "whole policing community", an inquest has heard.
Marek Wojiechowski, who was considering suicide, was in a Vauxhall car in Torquay, Devon, when it veered into the Twomey family's Volkswagen Golf last year.
Taxi driver Mr Wojiechowski was being followed by police on Hamelin Way.
Officers told the inquest in Torquay that guidelines were followed.
Oisin Twomey, who was 16-months-old, died at the scene. His father, Con Twomey, 39, died 10 months later as a result of his injuries.
Oisin's mother, Elber, who was 24-weeks pregnant, lost her unborn daughter.
Car 'driving circuits'
The inquest in Torquay previously heard that Mr Wojiechowski, 26, had marital problems and had been asked to move out.
Police were called and when a patrol spotted him they put their flashing blue lights and siren on.
Eyewitnesses said just before the accident Mr Wojiechowski had been driving normally when he suddenly accelerated appearing to veer across the road deliberately.
On Tuesday, the hearing was was told that CCTV showing a car like Mr Wojiechowski's doing a two-mile circuit around Hamelin Way some 12 times.
Officers strongly defended their actions regarding potentially suicidal drivers.
When asked if there was a lack of training for such situations, police said such cases were classed the same as dealing with a vulnerable driver, and that it must be dealt with as a matter of urgency.
Representatives of the force told the inquest that the crash was "tragic" and had affected the "whole policing community", but added that actions taken by officers dealing with the situation were within policing guidelines and no changes to those guidelines were planned.
The case was referred to the Independent Police Complaints Commission.
The inquest continues.