Four arrested in EDL and Exeter Together marches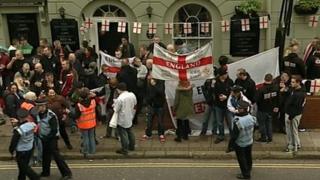 Two protest marches in Exeter have seen four people arrested.
About 1,000 campaigners from two opposing groups, the English Defence League (EDL) and Exeter Together gathered in the city.
Devon and Cornwall Police said two people were arrested for possessing offensive weapons - a knuckle duster and a knife - and two for being drunk and disorderly.
However, on Twitter, the force said it was a "successful event".
About 300 police officers, including some from other forces, were present in the city.
'Not welcome'
Exeter Together, which is a collection of trade unions, citizens and students, opposed the EDL march and said it was celebrating diversity.
Hannah Packham, from Exeter Together, said: "The city is really united so the EDL is not welcome in our city and they're not representative of the city's population."
A police spokesperson said: "Both groups exercised their right to a peaceful public protest without any notable incidents."
About 220 members from the EDL were involved in a separate march in the city.
Kieran Hallett, from the Exeter branch, said: "They say we need to celebrate diversity. Why do we need to celebrate diversity - we're all equal.
"They say we're not welcome in Exeter, we are welcome. We're the people who are doing their work for them."
Mr Hallett said the EDL was not in the city to cause trouble.
Police said two of the arrests took place on Friday evening with the remaining two on Saturday.