Oxfam concerned about Exeter man's Parabottle aid idea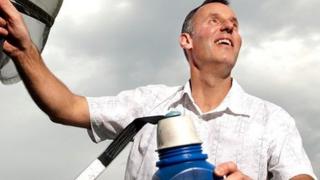 An initiative to parachute drop aid packages to areas affected by global disasters could cause conflicts between survivors and not help the vulnerable, an international charity has said.
The "Parabottle" has been launched by Exeter businessman Nick Sprague who came up with the idea after the Haiti earthquake in 2010.
Oxfam said there had to be a system of "receiving and distributing" the aid.
Mr Sprague said the cheap pods could "blanket" an affected area.
Following Typhoon Haiyan in the Philippines, he said lives could have been saved if the pods had been used.
Mr Sprague, who runs a charity also called Parabottle, said each package, costing £2, would contain a bottle of water, a foil blanket and matches, with a Hercules plane being able to carry 16,000 pods.
He said: "The contents of each pod can also be adapted to the climate and apparent risks of individual disaster areas."
'No better solution'
But Ian Bray from Oxfam said: "Vulnerable people will not receive the aid and it is not a recommended way of distribution.
"You need to have a system for receiving and distributing in place."
He said in the past in Sudan, aid had been dropped from an aircraft but there was a team on the ground to distribute it.
Mr Sprague said because the pods were "cheap to produce" they could "blanket" an affected area to reduce conflict.
"I'm not saying I've got the absolute finished article, I'm saying tell me where we're going wrong. There isn't a better solution at the moment."
He said he had been in discussions with charities about his idea and had "secured further discussions" with Cornwall-based organisation ShelterBox.
However, a ShelterBox spokesman said he could "not find anyone in the operations team who had made an arrangement to learn more" as parachute distribution was "so different from our aid model".
A spokeswoman from the Disasters Emergency Committee, which launches and coordinates responses to major disasters overseas, said the "idea sounds fantastic" but there were issues around getting the aid to all vulnerable people and said Mr Sprague should liaise with each aid agency.