'Burglar' photos himself in victim's home in Plymouth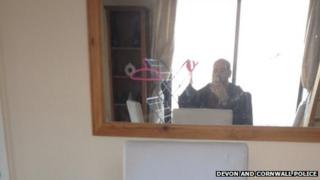 A man who was burgling a house stopped to take a photo of himself on the victim's mobile phone, police have said.
The photo shows the man sitting at the dining table of the woman's home in the Barbican area of Plymouth, Devon.
She was unaware the man had been in her home until she discovered the photo on her phone.
Police said various items of food had been reported stolen in the incident, which happened some time in October.
"It must have been very shocking for the victim to find a photo of an intruder on her mobile phone," a spokesperson for Devon and Cornwall Police said.
"We are actively investigating this burglary."
Police have asked for anyone who recognises the man to contact them.