Devon councillors ordered to pay tax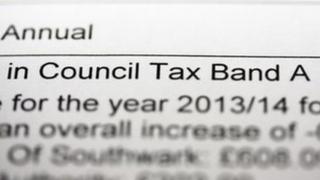 Devon councils have taken legal action against councillors nine times in the last four years over non-payment of council tax.
Mid Devon, North Devon, Torridge, West Devon and Plymouth took legal action against their own members, a Freedom of Information request has revealed.
Devon authorities also had to send out a total of 76 first-reminders to councillors between 2009 and 2013.
Councils said naming councillors would be against data protection laws.
Court action to force councillors to pay up was taken through liability orders.
If a court makes a liability order, it means the money can be taken out of salary or benefits.
Exeter and Torbay refused to give any information, arguing that to release it would affect the councillors' public roles and their private lives.
East Devon District Council said no councillors had received a reminder or a court summons between 2009 and 2013.
'Added burden'
However, it was revealed that between 2010 and 2013 one or more Conservative councillors on Plymouth city council owed a total of £4,300.
And last year one Conservative Plymouth councillor was issued with a liability order for non-payment.
Ian Bowyer, leader of the city council's Conservative group, said: "It undermines public confidence in councillors and I very much regret that.
"Every councillor is here as a privilege as part of the democratic process and we do have a level of responsibility to act up to."
One Labour councillor faced legal action for non payment of council tax in 2010-11.
North Devon Council leader Brian Greenslade said: "People in public office must set high standards and that includes paying their council tax on time."
He said the number of reminder letters to councillors had fallen, with one letter being issued this financial year and no legal actions.
"To put the number of councillor reminder letters into perspective, North Devon Council sends out some 15 to 16,000 council tax reminder letters per year," he said.
Matthew Sinclair, chief executive of the Taxpayers' Alliance, said: "A councillor who fails to pay their council tax on time can't claim to be a credible representative of residents who do pay their council tax.
"Local politicians should set an example and pay on time, not create further costs to taxpayers from the resulting legal action action.
"It's not surprising that some struggle though given a decade of council tax rises have added to the burden faced by every family."