Dr Judith Ames suspended over relationship with widower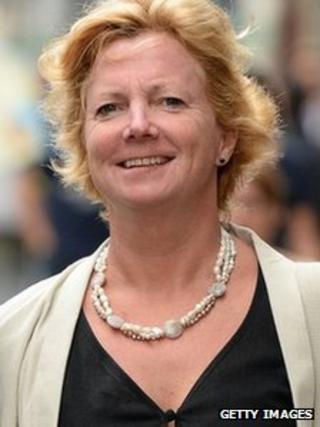 A doctor who accepted a marriage proposal from a terminally-ill patient's husband within weeks of her death has been suspended.
Dr Judith Ames, 55, agreed to marry Robert Owens 19 days after his wife died from lung cancer, the Medical Practitioners Tribunal Service heard.
A panel was told the Plymouth doctor was highly regarded but found she had shown a "disregard of the fundamental principles" of good medical practice.
She was suspended for six months.
Dr Ames, who worked at Mannamead Surgery, was treating Joyce Owens, 69, for lung cancer up to her death in March 2012, the fitness to practise hearing in Manchester heard.
She told the panel that she did not have feelings for Mr Owens when his wife was alive, but their relationship developed quickly later that month.
Mr Owens told the hearing the pair were "free spirits" and planned to wed.
'Opportunity to reflect'
The panel ruled in July that Dr Ames's actions were sexually motivated, an abuse of her position and that she broke medical guidelines about maintaining boundaries between doctor and patient.
During evidence, Dr Ames said her fiance's ex-wife may have approved of the relationship and could have been "very pleased" for him.
"I feel I have met somebody who I have an extraordinary connection with in spirit and personality," she told the hearing.
Suspending her on Tuesday, Gareth Davies, the chair of the panel, told the doctor that she had committed a "serious breach" of the boundaries in the doctor-patient relationship.
He said Dr Ames "chose a course of action which undermines public trust and confidence in the profession".
He added that the suspension would give the 55-year-old "the opportunity to reflect further on your conduct and the standards of behaviour expected of you as a medical professional".